Viking warriors didn't wear helmets with horns or wings on them.
There's no evidence that Viking warriors wore helmets with horns or wings. There are actually very few Viking helmets of any kind in existence and none have been found with horns or wings. Medieval sources show Vikings more commonly wearing simple headgear (perhaps made of leather or iron) while others have nothing on their heads at all. Vikings who wore metal helmets were probably in the minority and all of those helmets were fairly plain.
South of Scandinavia, Germanic and Celtic tribes did have religious headpieces with horns, antlers, wings, etc. but these were purely ceremonial and never worn in battle. To wear a helmet with large decorative extensions in combat would be impractical.
Artistic License
Fast-forward to the early 19th century, the Romanticism movement produced works that turned away from classical Greek & Roman influences and embraced medieval history from other European cultures further north (such as the Germanic and Celtic cultures). Within Romanticism was the Viking Revival in which the Swedish painter August Malmström is believed to have been one of the first to paint Viking warriors with wings on their helmets. In the spirit of the Mark Twain quote, "Never let the truth get in the way of a good story." there are a variety of historical inaccuracies in Malmström's paintings and the winged helmets are a big one … but they make for some great paintings. The fact that winged headpieces were purely ceremonial and probably Celtic (and not Viking), seems to have been lost on Malmström.
But perhaps the most influential source of this myth is the composer Richard Wagner. Der Ring des Nibelungen (The Ring of the Nibelung) is a German 4 opera cycle by Wagner which tells the tale of a mythical past, a magic ring, and the fall of the Nordic / Germanic gods. For the first Bayreuth production in 1876 Wagner's costume designer Carl Emil Doepler added wings to the helmets of the female Valkyries (which inspired this feline Brünnhilde) and horns to the helmet of the minor character Hunding, husband of Sieglinde.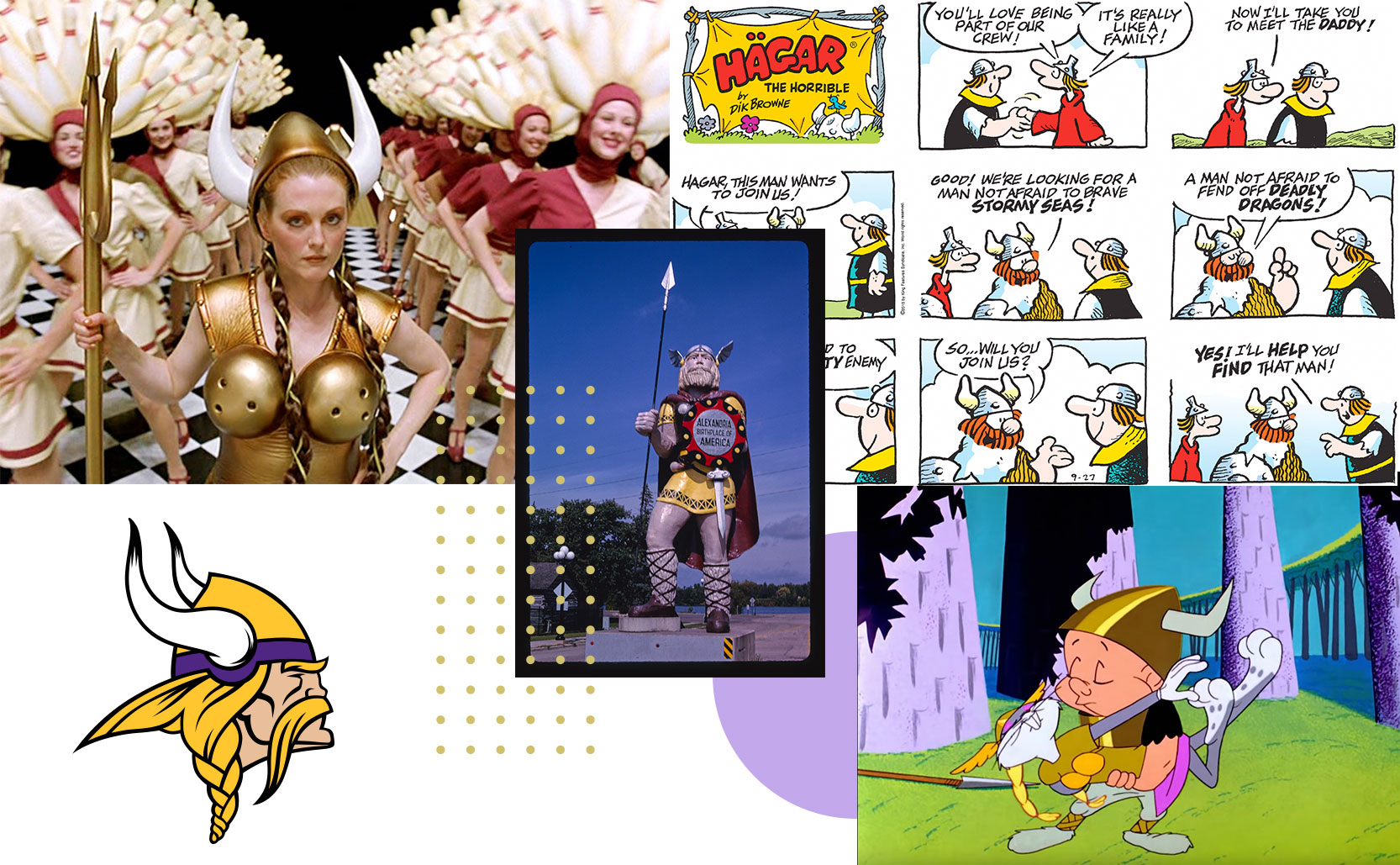 What's Opera, Doc?
Over time the Valkyries' wings were replaced with horns, giving us the idea of a female opera singer with a horned helmet. This spread across pop culture most notably in the comic strip Hägar the Horrible, the Minnesota Vikings football team logo, Julianne Moore's character in the Gutterballs dream sequence from The Big Lebowski, and the legendary 1957 Warner Bros. cartoon What's Opera, Doc? which pulls from several Wagner operas and features Bugs Bunny and Elmer Fudd in winged/horned Wagnerian costumes.