The southern Welsh custom that looks creepy but is actually a fun roving party.
The Mari Lwyd (roughly pronounced "mary lewid") is a late winter custom in southern Wales where groups of men go door-to-door singing irreverent songs for drinks & food (a ritual known as "pwnco"). It's in the folk tradition of mumming / caroling / wassailing but it's also a proto-rap battle. The group will sing to gain entrance to a home, and the homeowner will sing a response giving a reason to deny them entry. This exchange goes back and forth until one side wins, either sending the group away to the next house or allowing them inside where they're given refreshments.
It's typically performed around Christmas / New Year's and the homeowners usually allow the Mari to enter their home as it's thought to bring good luck for the coming year. The group eventually exits, heading back out into the night, to perform again at the next house.
The Pale Horse
What sets this tradition apart from other mumming / wassailing customs is the titular Mari Lwyd which is a ghostly hobby horse made up of a man hiding under a sheet holding up a horse skull. The skull is adorned with lights or baubles in the eye sockets, streamers hanging down, and the jaw is wired so she can snap at people. If she gains entry to your house she will cause mischief, chasing members of the house or feigning an attempt at stealing things, but in good fun.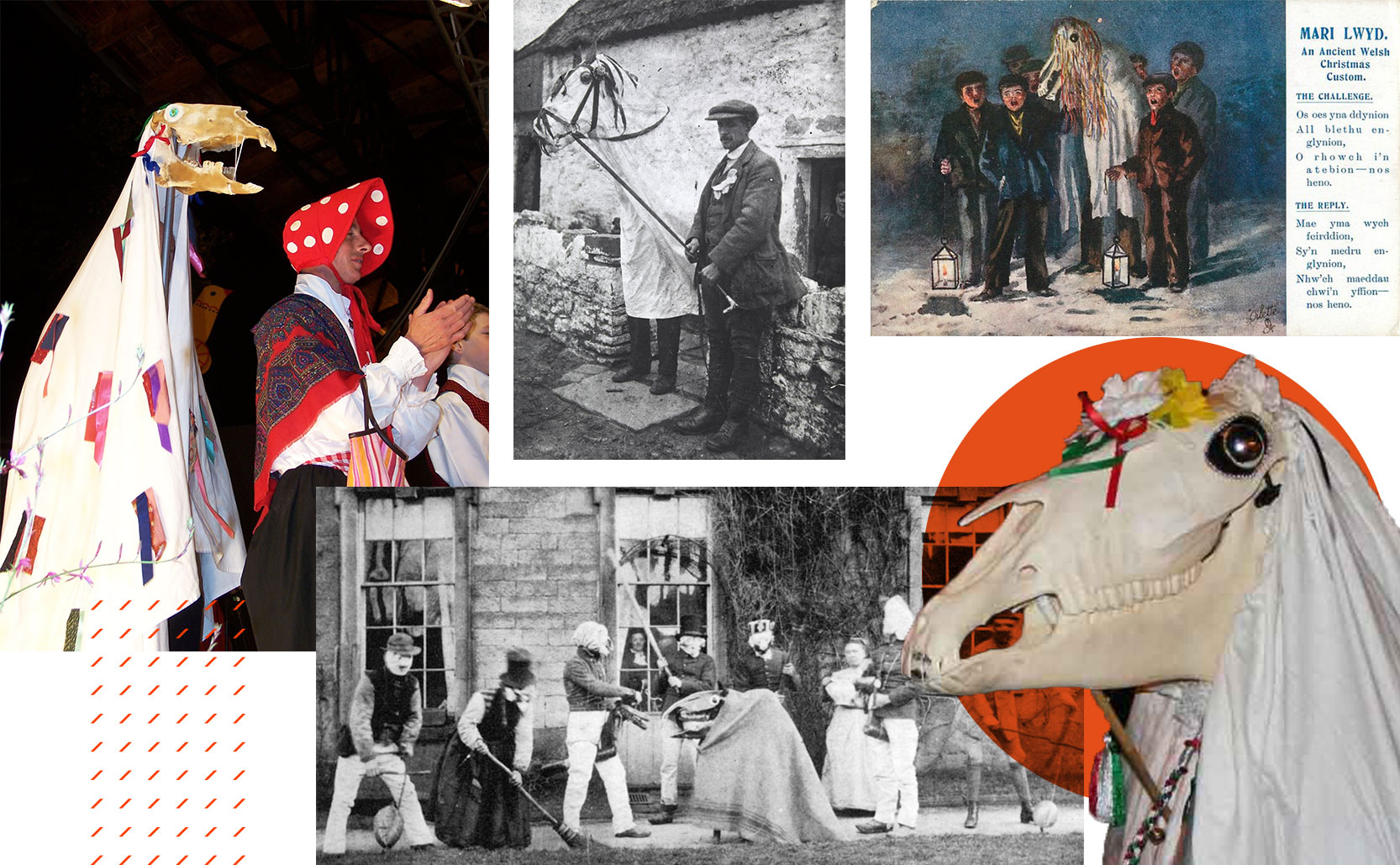 The etymology of "Mari Lwyd" is debated but it likely means "gray mare" (as "llwyd" is gray in Welsh). The custom has regional differences but the basics are the same (a horse skull, a roving singing party, etc). Far from being an ancient pagan rite, the Mari Lwyd is first mentioned around the start of the 19th century with the "boom years" being between 1850-1920. It was a way for poorer people to earn extra money & food in the cold of winter. They requested donations by offering audiences a healthy dose of fun entertainment … all under the grim menacing stare of a horse skull.
The tradition declined as the number of Welsh speakers declined (the songs & replies are in Welsh). The influence of the Methodist church, who disapproved of the sinful drinking and boisterous activity, also hurt the tradition. While the Mari Lwyd tradition isn't as popular as it once was it's having a resurgence and still carries on.